Baggage Marquee
When runners are queuing to hand their bags in it is important that you take their bag efficiently and politely and pass it directly to the table behind you where it will be moved by other volunteers. This hopefully will keep the queue moving!
This area gets busy leading up to the races and again from the finish until the Baggage Marquee is cleared. The time in between (approximately 75 minutes) gives you time whilst the race is in progress, to move the bags around.
All runners are given a Tag with their Bib number on it (very similar to the airline tags that you loop around the handle of your case) It is extremely advantageous to you if you pack the bag that leaves the label visible.
The numbers that are in the Diagram below correspond to a range of numbers on the runner's Bibs e.g.  Column 1-750  means that there could possibly be 750 runners. In general the lower the number the quicker they will finish! These Numbers will be on the front of the Baggage marquee so the runner can see that they are in the correct queue when they come to hand their bag in. There will be the same number signs will be on each row of tables so you know that you will be placing the bag in the right number range.
Along the front row of tables are the Volunteers who take the bag from the runner he then passes it to another volunteer who looks at the number and assesses if it should go at the front of the row of tables (Green Arrow) or the back this depends if you go from low number to high number but it is important that each row of tables is consistent. This makes it so much easier to find when the runner comes for his Bag. You should utilise the space underneath the tables too!
Adult Volunteers will assist Staff in the build and breakdown of the Trestle tables
At no time must the Baggage Marquee be left unattended!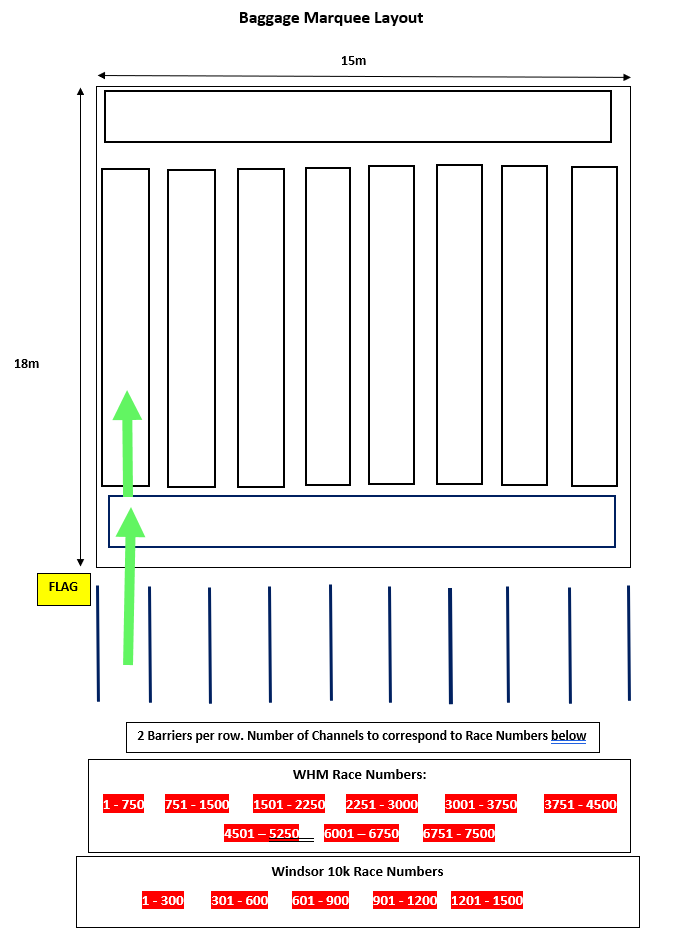 More Volunteer Information